Pathways
Pathways — the UBC Faculty of Medicine's digital magazine — shares stories about learning, discovery and innovation that are making a difference in B.C. communities and around the world. Discover the impact of our global-leading health research and education.
Snapshots
From Vancouver Island to the North and across to the southern Interior, our faculty, students and partners are remapping education and research across British Columbia — setting down roots in the regions where they train, bringing physical therapy to remote and rural communities, improving genetic care for Indigenous populations, using tech to expand health care delivery, and building community connections along the way. Discover their stories.
Setting down roots on the Island
The northern ripple effect
Snapshots
Setting down roots on the Island
Stuart Gray always wanted to be the kind of doctor who could support his patients every step of the way.
After graduating from UBC's Island Medical Program, delivered in partnership with the University of Victoria and Island Health, he found the perfect opportunity on the east coast of Vancouver Island.
"It was clearly a great place to raise a family, and develop strong relationships with patients in the community," says Dr. Gray, reflecting on his decision stay on the Island for his training with UBC's family medicine residency program - the largest in Canada.
Since then, he and his family have set down roots in the community of Courtenay, joining a growing number of new family doctors who are making an impact in the region.
It's here that he's able to deliver comprehensive care to his patients – to be the kind of doctor he always wanted to be.
"I had the experience of serving an elderly woman with lung cancer," he says. "From diagnosing her to supporting her during palliative care – it was an incredible privilege to be there for her and her family every step of the way."
For Dr. Bruce Wright, UBC's Regional Associate Dean, Vancouver Island, Dr. Gray is just one example of a recent graduate providing full service primary health care to patients on the Island.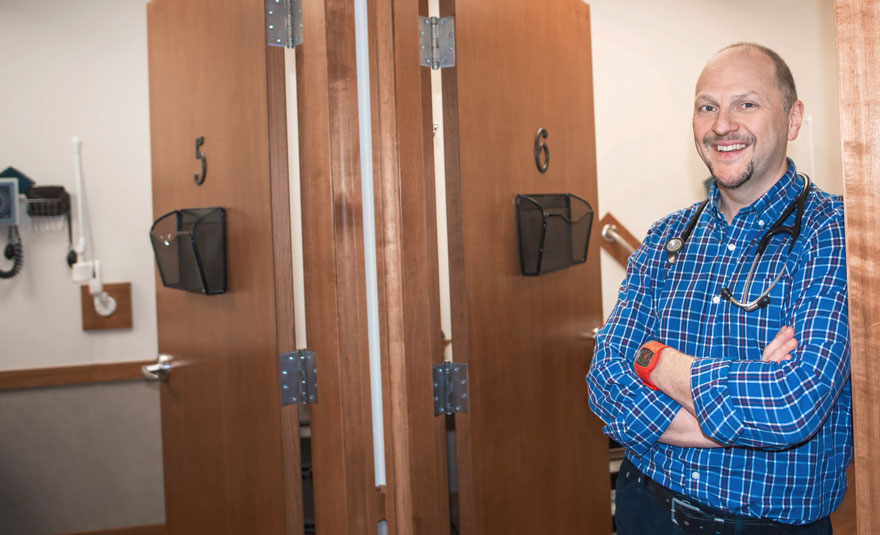 "By expanding training opportunities in communities across the Island, we're not only seeing graduates inspired to stay and practise in the region, but to become mentors to the next generation," he says.
In fact, when Dr. Gray isn't seeing patients, he can be found inspiring future graduates to build lasting community connections and stay in the region for years to come.
Rural connections
Nick Leinweber remembers how he felt as a UBC medical student when the bus drove over the Strawberry Pass and pulled into the small town of Rossland, B.C.
"I grew up in a small town in the Kootenays," he says. "Rossland felt like home right away."
At the time, Dr. Leinweber was about to start the new Integrated Community Clerkship (ICC) Program in the neighbouring town of Trail.
As part of the ICC, students are given the opportunity to live in a rural community, following the path of patients throughout the year — from family practice visits to specialty consultations, hospital admissions and the operating room. It's this early exposure to patient-centred medicine that's helping them to build strong relationships with family doctors, specialists and health professionals in the region.
"It's more than just medical school. You get to become part of a really unique community that will change the direction of your life," says Dr. Leinweber.
After completing his training, he decided to set down roots as an emergency doctor at the Kootenay Boundary Regional Hospital (KBRH), where he has become the teacher, training and mentoring new ICC students.
"Everyone at the KBRH was incredibly supportive," says Dr. Leinweber. "It got me really excited to want to come back and practise in Trail."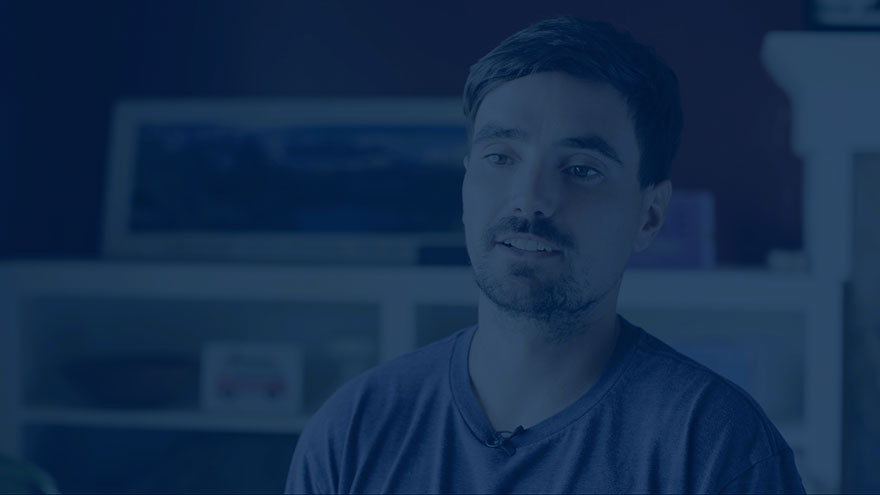 For Allan Jones, UBC's Regional Associate Dean, Interior, it's about helping students make life-long connections with the people and communities in the region.
"With the support of partners like Interior Health, we're delivering rich training experiences that are encouraging students to stay and practise here long-term," says Dr. Jones.
Dr. Mike Ertel, Interior Health VP of Medicine, couldn't agree more about the impact the program and partnership are having in the Interior.
"We're proud to support UBC's Southern Medical Program in rural locations across the B.C. Interior," he says. "By working together, we are not only training students, but showing them what these communities have to offer, inspiring them to call the southern Interior home."
A provincial classroom
When Josina Rhebergen scrolls through her work schedule in the morning, she's always inspired by the people she helps. 
A UBC Faculty of Medicine graduate from the Master of Physical Therapy Program's Northern and Rural Cohort (NRC), Rhebergen accepted a position in her hometown of Smithers shortly after completing her training.
"I love the North," she says. "And through the program I was able to see the opportunities for practise, as well as gain the skills and confidence to do it."
Building on the foundation of expanding UBC's medical program, the NRC initiative was launched in partnership with the University of Northern British Columbia to expose students to the unique challenges and rich rewards of rural practice. 
From Haida Gwaii and Kitimat to Vernon and Prince George, Rhebergen trained in rural and remote communities across the province. 
"We gained so much hands-on experience during our placements," she says. "You're exposed to a lot of different practice models that don't exist in urban centres."
Today, she works with a variety of patients recovering from stroke, postpartum, surgery, injury and those living with chronic pain. She also travels once a week to the neighbouring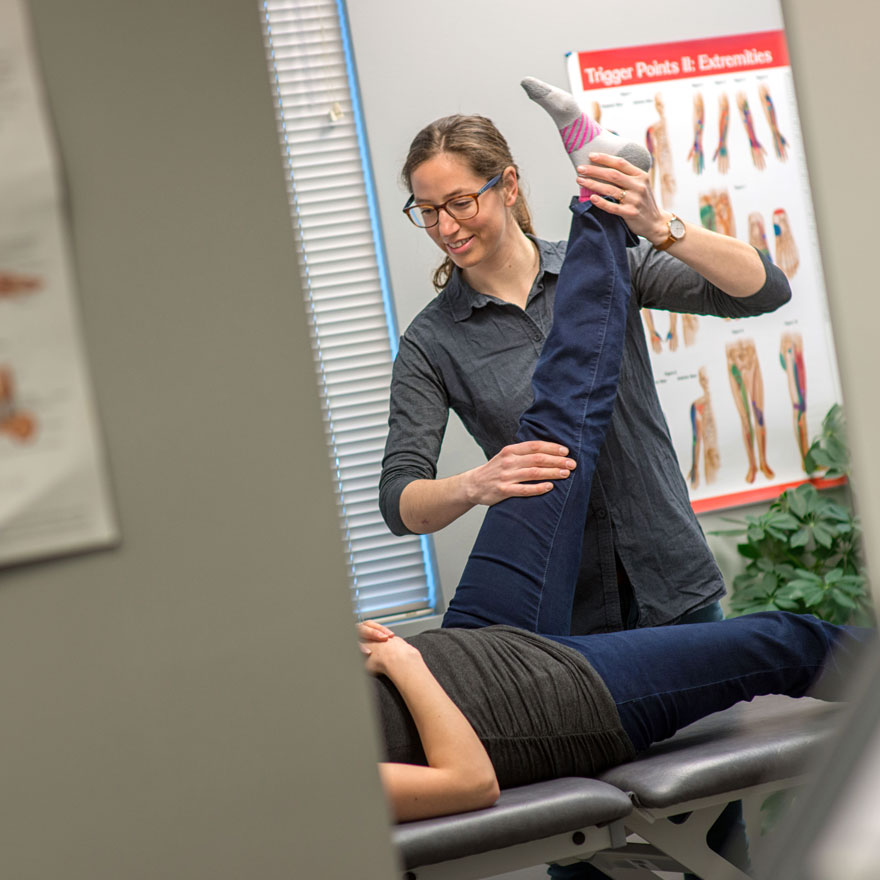 Gitanyow First Nation community – providing community members with physiotherapy services for the first time. 
"Josina is one of a growing number of Faculty of Medicine graduates practising in northern or rural communities, helping to address rural health inequities," says Robin Roots, a senior instructor with the Department of Physical Therapy and coordinator of clinical education for the NRC.
Expanding care with tech
Over the course of his career, Kendall Ho has noticed that emergency departments can often become revolving doors for people with heart disease.
"We see that about one in four people with chronic heart failure are being re-admitted within a month of being discharged," says Dr. Ho, an emergency doctor and professor in the UBC Department of Emergency Medicine. "And about four in 10 are being re-admitted within three months."
Today, he might have found a way to reduce the revolving door syndrome using technology — he calls it TEC4Home. It's just one example of how the Faculty of Medicine and its partners are advancing our understanding of how technology can expand care delivery across the province.
After the patient comes home from their initial hospital stay, a technician pays a visit and sets up devices for measuring weight, blood pressure, blood-oxygen levels and heart rate. Patients are also given a tablet to answer daily questions about their condition. The information is funneled to a nurse, who scans it and flags cases that require intervention.
A 2017 pilot project with patients in Vancouver and Kelowna identified several cases where intervention helped avoid re-hospitalization.
Now, working in collaboration with Interior Health, Fraser Health and Vancouver Coastal Health, TEC4Home is expanding to at least 18 communities in the Interior, Fraser Valley and Metro Vancouver with the goal of comparing the outcomes of patients who are remotely monitored with those who are not.
"We want to see if the TEC4Home patients have fewer returns to the hospital, while helping to reduce the anxiety, risk and expense that goes along with that," Dr. Ho says.
For Dr. Amil Shah, UBC's Regional Associate Dean, Vancouver-Fraser, exposing medical students to technology solutions, like TEC4Home, is key to preparing them for future practice.
"Technology is playing an ever-increasing role in the medical sphere. By encouraging the next generation to embrace new thinking and innovative approaches to care, we can help bring health care even closer to home for patients living in communities across the province."
Bridging the gap
Early in her career, Laura Arbour noticed that an important piece was often missing when looking at Indigenous health issues - the role of genetics.
A clinician-scientist and medical genetics professor at UBC's Island Medical Program, delivered in partnership with the University of Victoria and Island Health, Dr. Arbour has spent the last 25 years researching genetic conditions in Indigenous populations across Canada in an effort to improve access to genetic care. 
"Whether you suspect a genetic cause for heart arrhythmia or rare liver disease, you need to know what common genetic variations are present in a population to provide an accurate diagnosis," she says. "You need a reference point and right now our DNA reference libraries are mostly European, with some African and Asian genomes." 
"Not one of the genomes is identified as Indigenous." 
With $10.4 million in federal funding from Genome Canada, Dr. Arbour and fellow UBC researchers Dr. Nadine Caron in Prince George and Dr. Wyeth Wasserman in Vancouver have partnered with Indigenous organizations and communities across the country to lead the Silent Genome Project and create the first Indigenous DNA reference library. 
"The library will change things," says Dr. Arbour. "It will open the doors for better diagnosis and treatment, which is an important step in ensuring that Indigenous communities have the same access to genetic health care that other populations have."
The team will not only build the library, but will also develop standards for Indigenous oversight about how the data will be used and protected. 
"It will provide best practices and guidelines for future genomic projects to make sure that Indigenous populations stay included and involved even after the project ends," she says.    
Like Dr. Arbour, scientists across the Faculty of Medicine are changing the research landscape by learning from and working with B.C. communities to 'bridge the gap' and ensure all populations have equitable access to care.
The northern ripple effect
As a clinician-scientist with a fondness for rural communities, Robert Olson thought his specialization as a radiation oncologist meant a life in the big city.
"I grew up in a small town, so I prefer the lifestyle of close-knit communities, but they tend to have smaller centres that can't treat all types of cancer," he says. "Most don't have university affiliations."
During his last year of residency training, Dr. Olson was offered a unique opportunity that blended his passion for small-town living with clinical care and academia. He became an associate professor and research lead for UBC's Northern Medical Program in Prince George, while helping to build Provincial Health Services' BC Cancer Centre for the North.
"I wouldn't have considered it if there wasn't a medical school," he explains. "It was critical for me to be able to teach and do research."
Since the expansion of the Faculty of Medicine's medical program in the North — delivered in partnership with the University of Northern British Columbia and Northern Health — a range of specialized health professionals like Dr. Olson have set up practices in smaller communities, building a network of doctors, teachers and researchers in the region.
"We know that a lot of our medical students are staying to practise in the North — creating a ripple effect — which is also attracting more clinician-scientists to the region and increasing access for patients to health research and care," says Dr. Paul Winwood, UBC's Regional Associate Dean, Northern British Columbia.
Today, part of Dr. Olson's research focuses on gaining data and insight from patient-reported outcomes to improve cancer treatment and patient care across B.C. His findings have already led to changes in provincial prescribing patterns for cancer.
"It's already having a meaningful impact on the province's budget, on waitlists and of course for patient outcomes and quality of life," he says.
Get Connected
Sign up to stay connected and receive each issue.
We'll send a confirmation email. Please click the link to activate your subscription.