Pathways
Pathways — the UBC Faculty of Medicine's digital magazine — shares stories about learning, discovery and innovation that are making a difference in B.C. communities and around the world. Discover the impact of our global-leading health research and education.
Snapshots
Our faculty, staff and students are on the path to hope and promise — building resiliency in children, tackling older adults' unique mental health needs, pioneering new approaches to depression treatment, revealing the biology of addiction, and evaluating the impact of what's already been done. Discover their stories.
Building resiliency in kids
10 ways training is making a difference
The golden years: nurturing mental well-being
Treating severe depression - in a kinder, gentler way
The opioid epidemic: taking new measures to save lives
Snapshots
Building resiliency in kids
By the age of 25 roughly 20 per cent of Canadians will develop a mental illness that could impact them for life.
But what if we could change that by helping children become more resilient to things like stress, anxiety and depression?
In their pilot project, Kimberly Schonert-Reichl, Director of UBC Faculty of Medicine's Human Early Learning Partnership, and Michael Kobor, Professor of Medical Genetics, are investigating the emotional and biological benefits of MindUP — a social-emotional learning (SEL) program for kids.
"The children learn about their senses and engage in activities to practice mindfulness, gratitude, perspective taking and self-awareness," says Dr. Schonert-Reichl. "They learn how to self-regulate — how to be kinder and more compassionate people."
The pilot study, which partnered-up with students and elementary schools in British Columbia, used epigenetics, the science of gene expression, to examine the impact of participating in the SEL program.
"We know that early childhood experiences like family stress or trauma can literally get under the skin and create small chemical tags attached to the DNA that change how our genes respond to things like stress," says Dr. Kobor, who collected saliva samples from children before and after completing the program to measure changes to children's gene expression.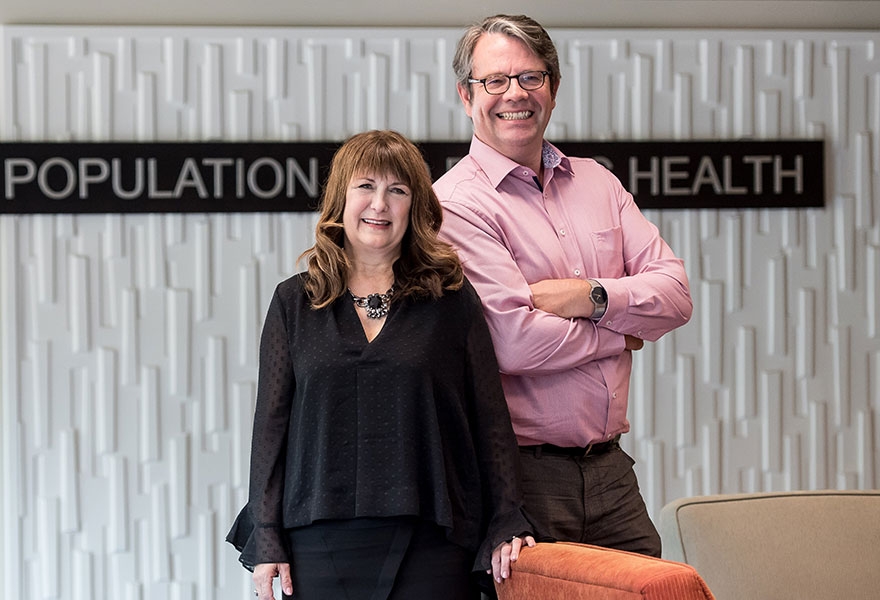 "If we could change that by speaking to the genes involved in coping with stress, we can better equip our children."
Findings for the pilot study are expected to be released next year, followed by a larger study.
"Research shows that children exposed to SEL do better in school and in life," says Dr. Schonert-Reichl. "Our discoveries could offer biological evidence that there are simple ways to make a difference early on — so that every child can enjoy lifelong happiness and well-being."
10 ways training is making a difference
From enhanced skills education through to subspecialty training, discover 10 ways the UBC Faculty of Medicine is equipping current and future doctors and health professionals with the tools they need to address the rise of mental health and addictions in British Columbia.
The golden years: nurturing mental well-being
For the first time in recorded history, seniors outnumber children in Canada – with British Columbia exceeding the national average of people aged 65 years and older.
As the population continues to age, doctors are seeing an increased number of patients with a range of medical, mobility and psychological issues ranging from dementia to anxiety.
To help serve the unique mental health needs of older adults, UBC's Faculty of Medicine is training the next generation of doctors in subspecialties like geriatric psychiatry.
"Mental health concerns often present much differently in older adults," says Evan Woldum, a fifth-year geriatric psychiatry resident. "Older adults who are depressed might complain of vague pains and be more socially withdrawn, rather than have outright feelings of sadness."
Launched in 2012, the two-year Geriatric Psychiatry Subspecialty Program exposes trainees, like Dr. Woldum, to a range of rotations in acute medical settings, rural locations, long-term care facilities, rehabilitation centres, home visitations and patient outreach.
The program also places an emphasis on interdisciplinary care.
"We work collaboratively with specialists, family doctors, nurses, social workers and occupational therapists to create comprehensive care plans," says Dr. Woldum. "The patient and their family members are also involved in that process."
And while Canada's aging population poses a challenge for the healthcare system, Dr. Woldum says it also brings opportunity.
"It's showing us the benefits of interdisciplinary care that take the whole patient into account," he says. "And I think that will lead to more personalized care plans for everyone."
Treating severe depression - in a kinder, gentler way
Bright hues of blues, reds and yellows pop against the neutral background in the office of Fidel Vila-Rodriguez, an assistant professor of Psychiatry at the UBC Faculty of Medicine.
The array of colours are brain images of patients Dr. Vila-Rodriguez treated for severe depression as part of a study examining whether gentle electrical stimulation can help treat the disorder and offer treatment options beyond anti-depressants and talk therapy.
Roughly one in four Canadians lives with some degree of depression. Some get better with lifestyle changes or medication - others do not.
"We don't have a blood test for depression," says Dr. Vila-Rodriguez, who is leading the ongoing study. "And, while electroconvulsive therapy (ECT) can be a life-saving treatment, it can have serious side effects."
"I wanted to see if similar therapies could offer the results without the side effects."
Dr. Vila-Rodriguez has been exploring non-invasive therapies like repetitive transcranial magnetic stimulation (rTMS), to stimulate specific areas of the brain affected by depression.
"Eighty per cent of people get better with ECT," he explains. "With rTMS, we're seeing 50 to 55 per cent of people getting better – with fewer side effects."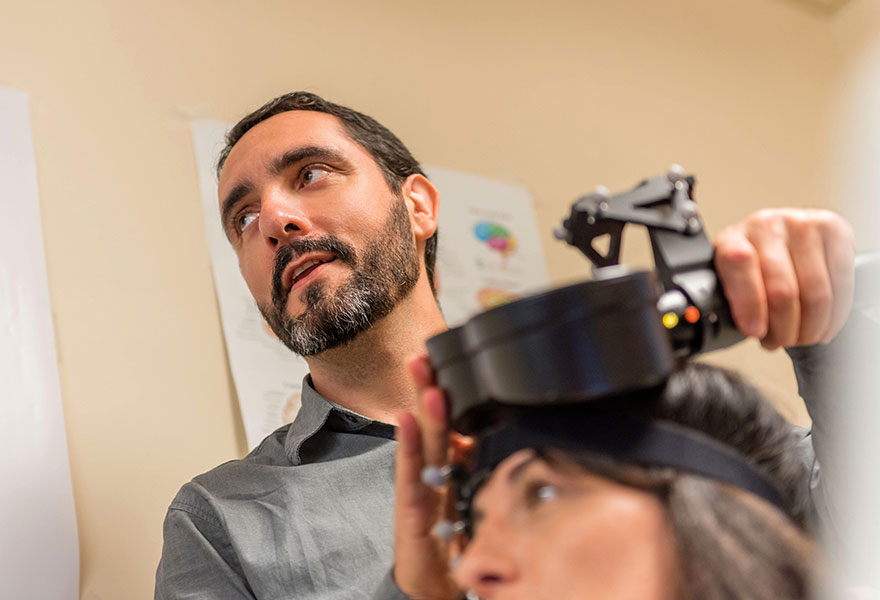 The study also examines brain activity before and after treatment to gain more insight into the mechanics of a person's depression and treatment outcome.
"In psychiatry, we often say that people are treatment resistant but I think it's the other way around," he says. "We need treatment options that put the patient first so that we can treat them in a more personalized and precise way."
The biology of addiction
Addiction, when stripped of its cultural baggage, is a form of learning – a persistent strengthening of certain synapses between brain cells.
By examining that process at the cellular level, Shernaz Bamji has demonstrated why some people may be more susceptible to addiction than others.
"Addiction is rooted in our biology and our biochemistry," says Dr. Bamji, a professor in the Department of Cellular and Physiological Sciences in the UBC Faculty of Medicine, who genetically engineered mice with higher levels of cadherin, a protein that helps cells bind together.
Dr. Bamji expected that the extra cadherin would strengthen synapses, making the mice more easily addicted to cocaine. Instead, it hard-wired their synapses in place, preventing the drug's pleasurable memory from taking hold – essentially stopping the mice from "learning" the addiction and enabling them to resist cocaine's lure.
So why not create a drug that boosts production of cadherin?
"For learning, we need to be able to both weaken and strengthen synapses," says. Dr. Bamji. "We need that to happen for any action controlled by the brain, whether it's walking, learning a new task or recalling a memory."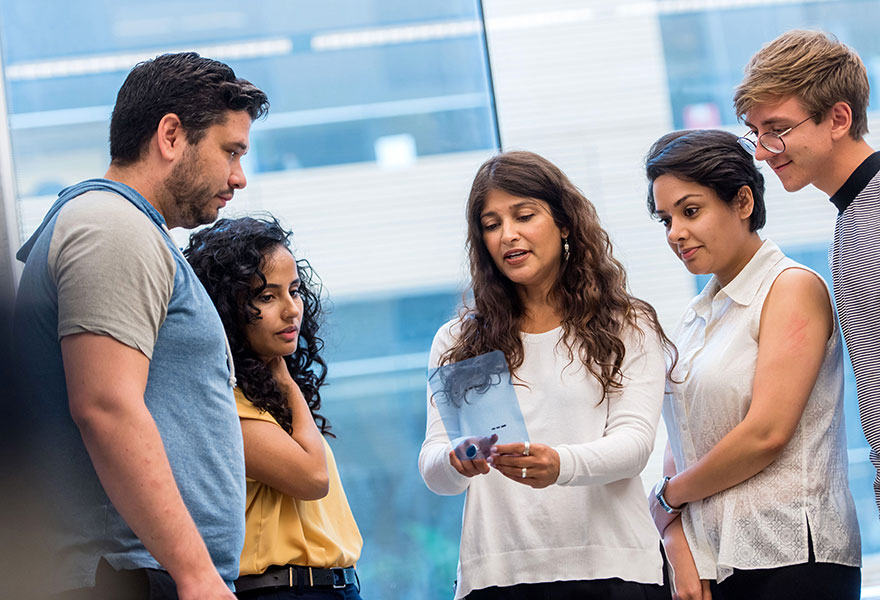 The study, however, illuminates why people with substance use disorders tend to have more genetic mutations associated with cadherin. That, in turn, could lead to greater confidence in predicting who is more vulnerable to addiction – and could influence decisions about the need for prevention or early intervention.
The opioid epidemic: taking new measures to save lives
British Columbia is in the grips of a public health emergency.
To help stem the tide, the Government of B.C. has implemented new measures. Whether it's training communities on how to prevent and respond to overdoses, distributing free naloxone kits, or lifting restrictions for prescribing treatments, all of these new measures aim to save lives.
But what effect have these actions had?
Nadia Fairbairn, assistant professor at UBC's Department of Medicine and Director of the Canada Addiction Medicine Research Fellowship with the BC Centre on Substance Use (BCCSU), is on the path to find out. She's leading a five-year study exploring the impact of these changes in preventing overdoses.
"It's been really hard on people, and it's been really stressful for families and friends," she says. "We're seeing a difference in terms of education and peer support. People are more aware of safer using practices and know how to recognize and respond to overdose."
"We also have several walk-in clinics that have medications on hand to start people on treatment right away and to link them with the right care."
The study will also evaluate how changes in prescribing patterns and policy impact people's illicit drug practices, and whether it increases their risk for fentanyl exposure.
Dr. Fairbairn believes the long-term study will provide crucial information to answer these questions and help guide policy moving forward.
"Addiction is a complex and chronic illness," she says. "How we define it and care for it matters. I want to provide people with real information on how to reduce risk and how to access treatment that works for them."
"And, I think that these changes and other improvements will help us get there."
Get Connected
Sign up to stay connected and receive each issue.
We'll send a confirmation email. Please click the link to activate your subscription.